Make Money With Reseller Hosting (Complete Guide)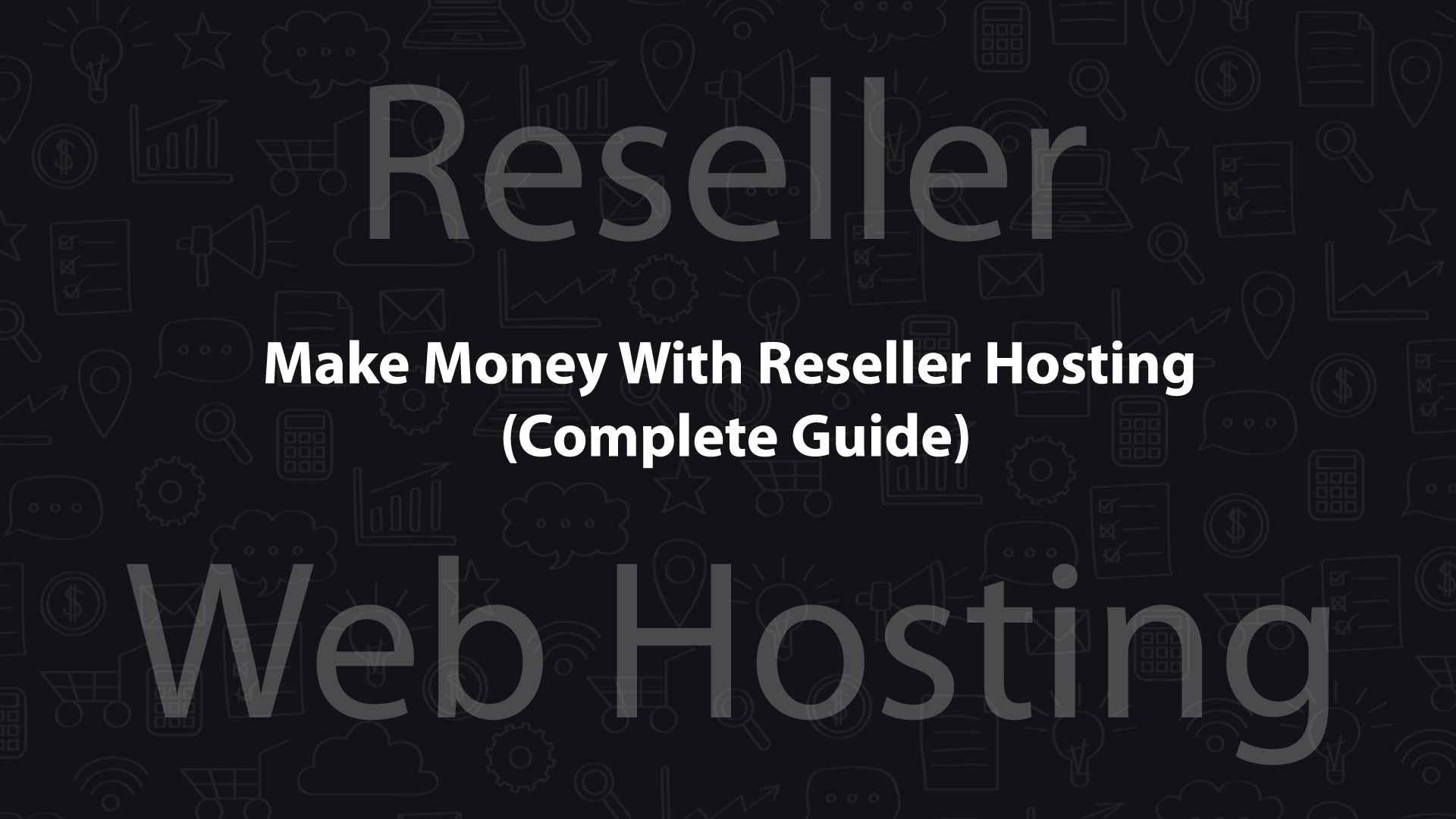 I really appreciate those entrepreneurs who aim to start a business, no matter what sector they are targeting. Likewise, as per the topic of the article, it is good to know that you are planning to start a web hosting business with Reseller hosting. Therefore, to make you understand in detail, I am writing this post and you can consider reseller hosting to start web hosting.
What is Web Hosting?
Today everyone aims to get their business online, but how it is possible? The answer is simple; it's because of web hosting. Now you will ask why we need a website. A website is designed by the designer, but you need hosting to make it live worldwide on the internet. This means you need a hosting provider to host your website and for that you will get many options in the market.
If you ask my suggestion, then you should go for MilesWeb an Indian web hosting provider that offers hosting on the Amazon Cloud platform. You get web hosting at an affordable cost as their product range is vast that consist of basic web hosting, domain, VPS, Dedicated, SSD Reseller Hosting, Cloud, Shared, WordPress, eCommerce, CMS hosting, etc.
What is Reseller hosting?
It is a simple concept of buying a product from the manufacturer and selling directly to the end user under your name. Here also you buy hard drive space and bandwidth from the hosting provider and sell it to the end user including your profit under your brand name. In short, you act as a web hosting company for your clients.
Who can start the Reseller Hosting Business?
Entrepreneurs or web designers/developers who are willing to start a web hosting business apart from their designing and development business can start a Linux Reseller or Windows Reseller Hosting business.
Benefits of Reseller Hosting
Develop A One Stop Solution:
You as a reseller hosting provider will get a chance to offer a wide range of services to your clients. This means you are selling a combo package to your clients that is, website development and web hosting. In short, your client will get everything under one roof and your business will get expanded in the hosting sector also.
White Label for Your business:
You can easily create own hosting brand by reselling because all plans are identified by the white label. This will become easier for your clients to buy hosting without any hesitation.
Build Your Own Plans:
You can design your own plan that gets customized easily to fulfill the demand of your client.
Expand From Small to Big:
At the initial stage, your other resource can be rented, but when your business experiences the growth, you can expand your business when demand increases.
No Server Maintenance:
Your hosting provider is completely responsible for the management of the server. Therefore, you don't need to be an expert in technical maintenance.
Good Profit:
The ultimate benefit of reseller hosting is financial. When you start selling hosting, your short-term clients will get converted into long-term customers, this will expand the value of your customers and you get a fixed income over the long term.
Factors to Consider Prior to Starting Your Reseller Hosting Business
Select Right Hosting Plan for Your Clients:
For a successful reseller hosting service, it is necessary to fulfill the requirement of your customers. Design the plan in such a way that it will fulfill the exact requirements of the clients. If you are a developer or designer, then it will become easy for you to decide the plan as per your clients and business requirement. But what if you belong to a non-technical field, then, in that case, you need to study the market and concept like disk space, bandwidth, email accounts, software and security measures. If needed, you can also ask your provider to guide you accordingly.
Providing Best Customer Support:
A simple task of reseller host is to provide hosting. As I said before, your hosting provider will take care of technical issues, once your plans and customer's accounts are set up.
Eventually, your customer will face issues and how you respond to them will decide your business graph. However, potential customers will make an inquiry whereas existing customers will be required to reply quickly to their issues. Keeping the same in mind, you need to appoint an expert to handle your support inquiry. By chance, it is not possible to appoint the in-house support staff then you can outsource the customer service for hosting.
Security and Reliability:
Security and reliability are the two important factors that you need to focus on. When you are starting a reseller business, it is your responsibility to maintain an adequate level of security. This means you are required to take accurate and effective precautions for your server. Moreover, you need to make sure that you are getting essential security features to protect your clients' websites.
You can't neglect the point of reliability for a successful reseller venture. Your clients must be accepting good visibility of website because a site with slow speed and 404 error leads to develop a bad impression of their business. This will reflect your business reputation as well because you are responsible for providing maximum uptime to your clients. Always make sure that you are getting maximum uptime for you and your clients, for example; MilesWeb gives uptime of 99.95% to their customers.
Factors A Reseller Plan Includes:
Disc Space and bandwidth
Unlimited domain hosting
White label branding
cPanel / WHM control panel for Linux or Plesk
Website migration and domain hosting
Additional hosting features for clients, e.g. email, cPanel, and security tools
Technical support
Domain Reseller
Payment Gateway
Conclusion:
Starting a reseller hosting business is a simple task but it requires focus and dedication to run and maintain the same consistency in the business. Get ready to earn the best profit from your reseller business because after reading this post you will definitely start a reseller web hosting business.
A passionate Digital Marketing Expert and Content Writer since two years. I am passionate about writing blogs related to Information Technology and Digital Marketing. In my free time, I love to watch news channels, hang around social networking sites.