WordPress themes for Lawyers is a calling that is inadequately provided in the online market. Most of the themes out there in the market, which is so-called "WordPress Themes for Lawyer", are rather old-fashioned and clunky and uninviting, even though there are several great themes out there.
Law is a serious business, with many changing statutes and regulations at an interval of every few months. A website for a law firm or a WordPress theme for lawyers requires a very formal and professional layout, which you can hardly find in the common blog themes available in the market.
But today, in this article, we have picked out some of the best WordPress themes for lawyers, which is suitable for their law firms and gives the right vibe it needs. So if you are a lawyer looking for that perfect web design, you should definitely take a look at the themes presented in the below list. These themes not only provide you with a good design, but also give the vibe of professionalism that is required, and help in attracting a good number of right clients for your business.
1. Lionic- Online Finance & Legal WordPress Theme: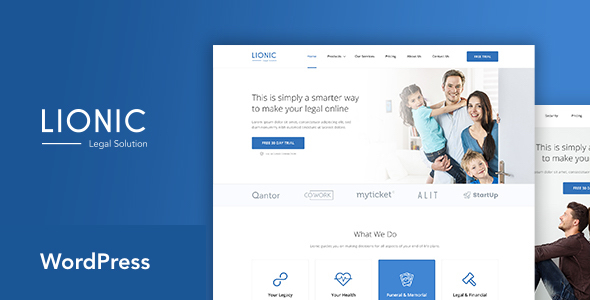 Lionic is a latest and fresh design template. It focuses on Online Finance & Legal matters. This will help you collect all the information online relating to all aspects of your life. It lets you do this safely and securely. It provides the users with all the critical information needed. It provides design templates suitable for Legal & Law services, Advocate agencies, Financial institutions, Retirement & savings accounts, Business loans, Tax advisory services. It helps you create a perfect responsive website. It is built with Bootstrap and has unique homepage layouts.
2. Iasion- Insurance Agency WordPress Theme: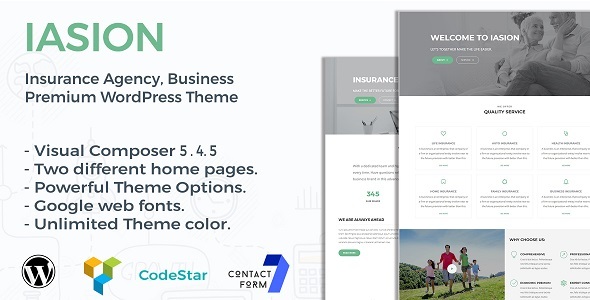 Iasion is a professional Theme creatively crafted for the Insurance agency, consultancy, business company. It provides you with these quality sections, using which you can build a professional looking website for your company. It has several service page along with "Frequently Asked Questions" page. This is a much-needed page for any business company. It is user-friendly and has many powerful theme options with a number of features. It comes with Google Web fonts and unlimited theme colors.
3. Arpa- One Page Business WordPress Theme: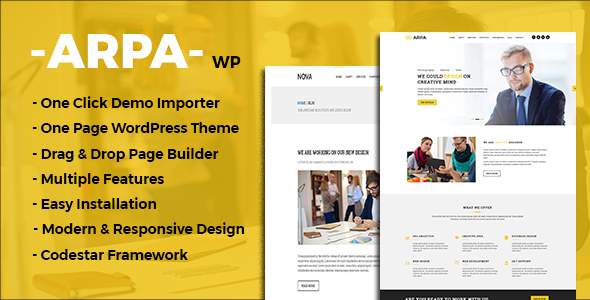 Arpa is a WordPress theme that is highly responsive. Also, it is one of those themes that requires zero coding knowledge. Arpa is perfectly well-suited for Agency, Corporate, Startup, and other small Business sites. It has a lot of features and it looks perfect on all modern browsers, tablets, and phones. You can customize each and every section and change your contents as per your need by Drag and Drop. Arpa has a Codestar Framework and a one-click demo importer.
4. Mega Factory- Industrial WordPress Theme: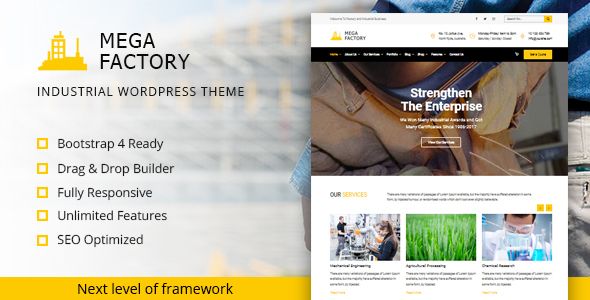 Mega Factory is a theme that is not only responsive and properly designed but along with it, the theme is highly professional. It is carefully and diligently designed to be able to cater to factory and manufacturing industry-related websites. Mega Factory is a theme most suitable for industries like railways, airplane, power, petroleum and construction company. It is a fast, intuitive, and a smart page builder that will make your customization very quick and easy. It is the number one best selling page builder plugin for WordPress.
5. Wobus- One Page and Multi Pages Business WordPress Theme: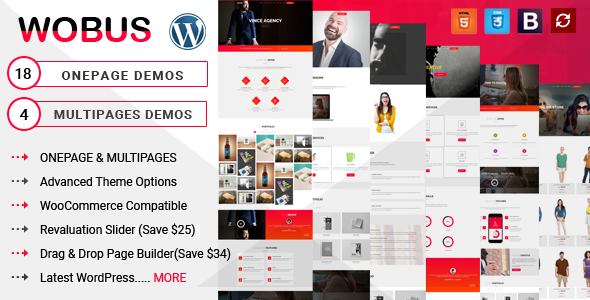 Wobus is a fully responsive and creative, and multipurpose one page and multipage WordPress theme. It has some of the latest web design styles. It has perfect ready to use demos for any type of business be it design, corporate, startup etc. It is a highly user-friendly WordPress theme. Wobus comes with 18 high-quality demos homes and many built-in inner pages. Wobus Business WordPress Theme comes with unique style and clean code.
6. Viltorax- Lawyer WordPress Theme: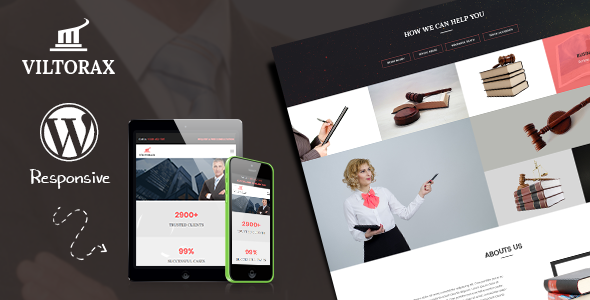 Viltorax is a clean and responsive WordPress theme. It is specifically designed for Legal Advisers, Legal offices, Lawyers, Attorneys, Barristers at Law, Solicitors, Advocates and other legal and law-related services. Valtrex is suitable for any kind of legal and financial activity. It comes with all the features required by a law firm. It is suitable for users with zero programming skills as well as advanced developers. Viltorax can be bought at a price $59, and you can also get extended support up to 12 months by paying a fee of just $17.63.
7. Gisborne- Business, Financial and Consulting WordPress Theme: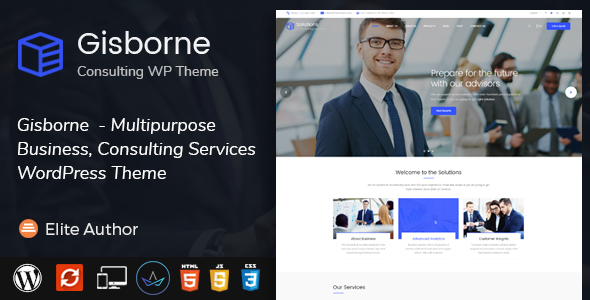 The creators of Gisborne know that every business is unique and each of them requires a unique design as well. Considering this, they have done a deep research before making each and every part of Gisborne. Gisborne is the best Finance, Consulting & Professional Business WordPress Theme. It is very well suited for the corporate website like Financial Advisor, Accountant, Consulting Firms, Banking etc. Gisborne can prove to be extremely helpful for businesses and financial firms to mark their presence online. Gisborne is a fully responsive theme, It has a very strong focus on smartphone and tablet experience. This template comes with necessary features for your online presence like portfolio, blog, testimonial etc.
8. Moresa- Business WordPress Theme: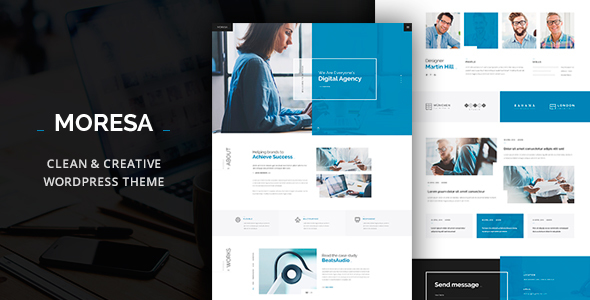 Moresa is a clean and high responsive WordPress theme. It is also one of the most modern and multipurpose WordPress themes for business and corporates. This theme is designed for almost all types of companies, digital agencies, startups etc. Moresa has all the important features that are required for a perfect WordPress theme It has a Visual Composer, Revolution slider, and One-click demo included. Moresa is one the simplest but best websites for corporates and businesses.
9. Vestma- Business, Consulting, Corporate WordPress Theme:
Vestma is a versatile and multi-purpose WordPress theme that can be used for businesses, consulting or corporate websites. It is a premium theme that is designed to create all kind of business and consulting websites. It has all the features of a professional WordPress theme like retina-ready, fully responsive layout, cross-browser compatibility, customizer, click demo install etc. It has more than 9 stunning homepages layouts and 30 ready-made content objects.
10. The Legal Lawyer: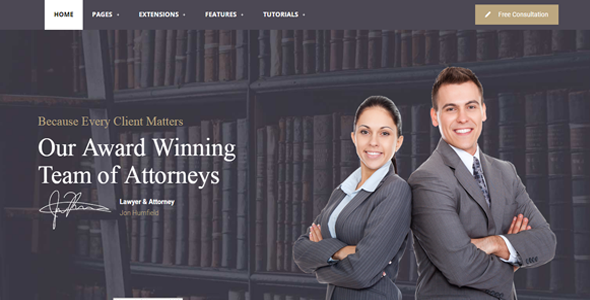 The Legal Lawyer is a highly responsive WordPress theme. It is the ultimate all in one solution for any lawyer website. This theme has more than enough features for a lawyer site. The design comes with two custom highlight colors. Also, it has two custom site fonts. It gives you an option to add a phone number and more in the theme specific area. The template has 2 custom widget positions that work alongside the top row 1 and bottom row 1 positions. The Legal Lawyer lets you add up to 7 in a row. But each of the custom positions has the highlight color.
Conclusion.
A website that is being made for a law firm or a business or corporate firm requires a lot of precision and professionalism. There can be no imperfections. The website should have a clean and professional look and all the aspects are required to be properly arranged in such a manner that it looks appealing to the one who visits the website. Also, the websites are required to be highly responsive and adaptive of all the changes that are required to make from time to time due to the business.
The above mentioned 10 WordPress themes are the perfect themes for Lawyers, Law firms, business, consulting, corporate and financial services. These 10 WordPress themes offer all the features required in order to create the best website for lawyers and business firms. For building this kind of websites, you will need WordPress.org because it gives you access to all the powerful WordPress features out of the box.
You should also check whether these themes are easily adaptable when it comes to linking it to the social media. This aspect is extremely important to think about, considering the growth of social media and its effects on law firms and business houses. We sincerely hope this article helps you find the right kind of theme for building a website for a law firm, or businesses, or corporations. We are happy to help you to develop a website for you. Let me know if you have any other idea about website design related or you have other WordPress theme and you want us to customize it then do not hesitate to contact us.
Bharat Mamtora is an online marketer, graphic designer, avid tech-savvy blogger. He is associated with WordPress Website Development Agency – Enkrishiv. He loves to write about WordPress Development, Web, Online Marketing, Social Media and much more. Apart from writing, he loves reading & meditation. Connect with Bharat on Twitter & Linkedin.